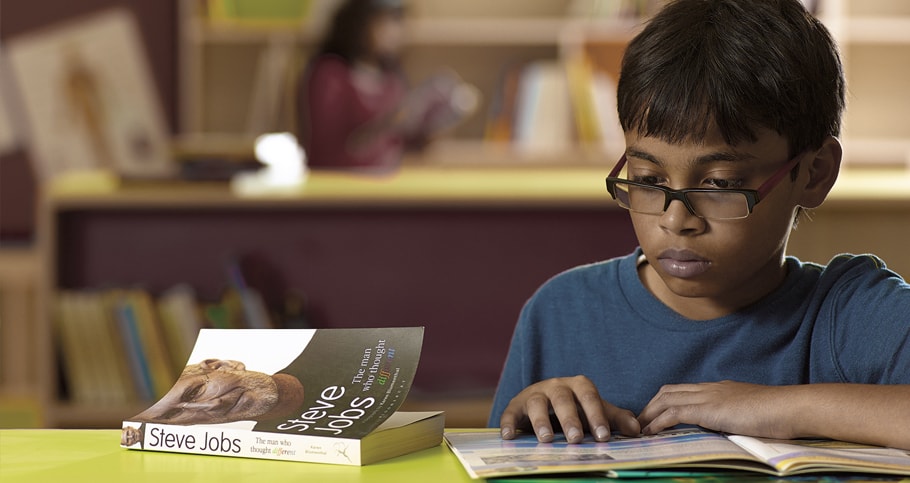 A child prospers, when the environment is complete.
Ithaka supports an education system that lays emphasis on practice-oriented learning. The focus is on motivating students to explore new ideas and learn by doing. The school has a unique Model Workshop, in addition to the labs and library, where the students can prepare their exhibits, under the guidance of an expert for Intra School and Inter School presentations.
Ithaka's facilities include:
Library: The school's two-floor library is imaginatively designed to stock huge collection of books that cover fiction and non-fiction in all genres and subjects. A huge section of the ground floor is allocated for the Pre-Primary, where children participate in interactive story sessions.
Digital Media Wing: This wing has a good collection of educational, digital and multimedia materials (CDs, DVDs and videos) for use in the classes and with an Internet corner.
Labs: Well-equipped laboratories for Physics, Chemistry, Life Sciences and Mathematics, provide the students ample opportunities to question, explore, examine and hypothesize.
List of Clubs and Societies Provided:
Science Club
Literary Club
Sports Club
Adventure Club
Art & Craft Club
Dramatics Club
Yoga Club
Martial Arts Club
Math Club
Robotics Club
Animation Club
Wonderers Club
Aerobics
Today's clubs, could be tomorrow's companies.
In order to bring the untapped potentials of students to light and institute a spirit of team building, Ithaka has established various Clubs and Societies. These clubs play a pivotal role in supporting and balance out the children's creative energies and skills, under the guidance of able and enthusiastic teachers. Students develop their artistic talents in their chosen field. The clubs serve as a platform for students to prove themselves in various fields other than academics.
Aiming to give competition a run for the trophy
Ithaka aims to promote physical, intellectual, emotional and social development of the students by active participation in a wide range of physical education and sports activities. It has invested huge funds to develop one of the finest sporting facilities in the region with synthetic courts for Tennis and Basketball, play fields and a massive Swimming Pool using the services of renowned consultants in the country. The specialist staff grooms the students opting for Football, Hockey, Cricket, Volleyball, Basketball, Swimming, Tennis, and Athletics.
World-Class Facilities at Ithaka:
Indoor Sports Block
Well-designed Skating Rink
Aerobics and Gymnasium
Yoga and Meditation Hall
Learning to create ripples, and go for the gold.
Ithaka has a massive all-weather indoor swimming pool with automatic filtering plant. The pool has well-demarcated zones for beginners, learners and advanced swimmers. Students are trained in this life-saving discipline from Grade 1 onwards. A qualified and trained lifeguard supervises and monitors students in the pool. For pre-schoolers, a bubbly and creatively designed toddler pool is provided with a rain shower system for a thrilling experience.
Taking charge of the stage to steal the limelight.
Ithaka has a unique open-air Amphitheatre with a large performance stage that opens up to an imaginatively designed projected seating in greens. Children will be gathered here for morning assembly, music recital and inter-house competitions, which give them, scope to showcase their talents, creativity and gain confidence. It has also planned for a massive auditorium with ample seating, where all the quality presentations and events are planned. This acoustically treated multi-utility auditorium in ground floor of the senior block has specialised Performance Equipment Systems with a massive stage will be the venue for music, plays, cultural and literary fests and felicitations.
A place to dine with friends who'll remain for life.
As a Day Boarding School, it pays utmost attention to the health and hygiene of students. The spacious kitchen has been designed with modern gadgetry such as steam cooking, gas furnace, electric oven and steam-washing equipment. The food served at the cafeteria is nutritious and provides well-balanced nourishment to the students. The huge dining lounge with a separate section for juniors can accommodate large number of students in one shift. Expert dietician and doctor of the school infirmary monitor quality of the food. Faculty members too dine with the students to monitor their dining etiquette. Central water purifying plant has been installed to provide purified drinking water in the campus.
An everyday journey that parents can be rest assured about.
At Ithaka, security is not a luxury, but a priority. Every nook and corner of the campus is under constant vigil and surveillance. The security staff as well as the entire school staff and students are periodically subjected to mock fire drills and other self-defence campaigns. The air-conditioned bus fleet has pre-screened and well scrutinized staff appointed for safe and secure commuting of the children. Buses are manned by support staff and the latest communication devices for constant tracking at any given time. It also helps the school authorities to inform the parents of any delay in the arrival of the bus, thus relieving their anxiety.