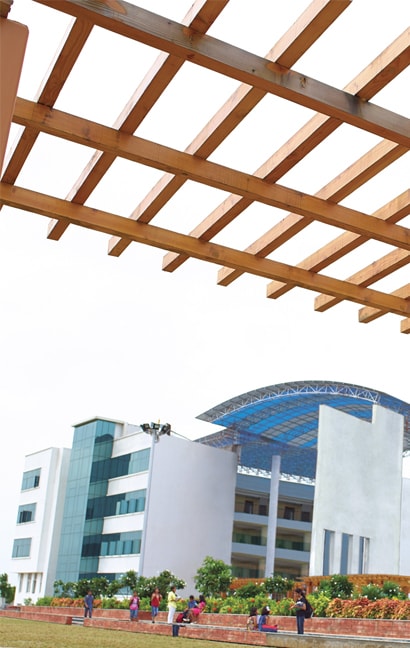 Built on ideals the nation is built on.
The first school was established nearly two decades ago in Nellore - referred to as the rice bowl of Andhra Pradesh. The response was so overwhelming that the group expanded rapidly to other major locations in the country. Today, Ravindra Bharathi is one of the largest groups of institutions in south India spread across three states with over 70,000 students. The group offers education following CBSE and State syllabi. Such stupendous response has sowed the seeds of futuristic and global education in Mr. Mani's mind, encouraging him to set Ithaka International School in Nellore offering the internationally accepted and approved CBSE and Cambridge Programmes.
More nature on the campus, more space to mould thinking.
Set to re-define the paradigm of mainstream education in the region, Ithaka is spread over 7.5 acres of land. The day boarding school has been designed with minimum changes to natural topography. The unique layout has been designed with step-wise gradients to keep the natural incline intact. The entire campus has a perimeter of green hedges that double up as fencing as well as lovely verdure. Vast playgrounds and open-air amphitheatre are located on one flank. The building blocks are divided into four major wings - The Primary Years Wing, The Middle Years Wing, The Senior Years Wing and the Administration Wing. The construction of the concrete structures has been designed in a way that is eco-friendly and that which strikes a balance between modern structures and nature. Even the campus educates.
A campus with a character for minds to take charge.
The task of designing this premier school has been entrusted to an internationally renowned design architect firm that has designed over 200 schools, colleges and universities in the country. Spread over an area of approximately 3.2 lakh sq. ft. on completion of the project, the campus will have scientifically designed e-classrooms, multi-level library media centre, integrated state-of-the-art science laboratories, performing art and dance studios, acoustic-treated auditorium, cafeteria, dining lounge and spacious kitchen. The sports facilities comprise an indoor multipurpose hall, basketball courts, gymnasium, exclusive space for yoga / martial arts, tennis courts, indoor swimming pool, a huge playground with athletic track and a professional level cricket practising pitch.